COVID-19 is causing rapid changes in our world. The new reality of social distancing has led us to adapt in major ways - from moving work and education to the home, to cancelling major in-person events like graduations. Amid worrying reports of bare shelves at grocery stores, researchers at Feeding 9 Billion and the Arrell Food Institute at the University of Guelph have been working hard to understand what this means for the bigger picture of our food system.
     Canada is lucky to have a robust food supply chain, with actors that are used to dealing with uncertainty, especially in the produce sector. In addition, unlike some past food crises which have been exacerbated by natural disasters, COVID-19 is unlikely to have as large of an effect on the logistics of the system. Although increasing uncertainty has caused many of us to stock our home pantries and shelves with a little extra, demand in general has not increased, and stores are likely to recover from the initial shock in the near future. This does, however, give us the chance to re-evaluate our current system through a new lens. Experts expect that issues arising from reliance on seasonal migrant workers and just-in-time shipments to fill grocery store shelves could lead to a movement to increase regional resiliency by investing in local producers and supply chains.
What can you do?
     Did you know that almost half of all food waste occurs in the home? Making the most of the food we buy can go a long way toward delaying that next trip out and reducing contact with others. The "Rock What You've Got: Recipes for Preventing Food Waste" cookbook, published by the Guelph Family Health Study, is a great free resource to help you reduce waste. The book has lots of helpful tips, including how to plan meals before you go shopping, how best to store food to keep it fresh, and ideas for using food before it spoils. It's also chock full of recipes that help eliminate food waste by planning ways to use leftovers, offering lots of ingredient options to make use of whatever you have, and fully using ingredients so there are less stragglers in your fridge. Why not take a look, and try making your next shopping trip last longer?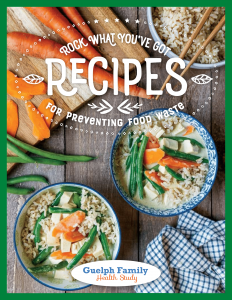 If you're interested in more ways to learn about food waste in your home or classroom, a home food waste audit can be a fun hands-on way to explore the topic.