From farm to plate, anywhere from one third to one half of all food is never consumed. This issue is critical for achieving a sustainable agricultural system because of the huge strain modern agricultural production places on our planet. As almost a billon people are food insecure (having inadequate access to, or resources for, nutritious and culturally-appropriate foods), reducing food waste is becoming increasingly important. Recent FAO reports show the number is more accurately 820 million people and increasing 1. It is critical to consider these numbers because every time food is wasted, food is being denied from the chronically hungry 2.
     As it currently stands, food waste models predict that the volume of food wasted is expected to grow 1.9% yearly, from 2015 to 2030 3. The limited activism and policy work in effect are not efficiently reducing the severity of the problem. Solutions to food waste do exist. However, a significant change in society's attitude is desperately needed 2.
     Several agencies and advocates have presented a variety of ideas to alleviate the amount of food that is wasted. One possible model to follow was developed by the Environmental Protection Agency 2.  The Food Waste Pyramid is a system designed to upcycle food waste to prevent it from entering the landfill. The system works from the top down  - the top of the pyramid being the number one way to reduce food waste, and the bottom being what should never be done with food waste. Starting from the top of the pyramid, the strategies they suggest are as follows:
Reduce food waste at the production level on the farm;
Feed people with food that is still edible but would otherwise be thrown in the landfill;
Feed animals what humans cannot eat;
Use food waste to create energy through anaerobic digestion technology;
Compost food waste so the nutrients can return back to the soil to grow more food.
The last level of the pyramid is where food waste goes to the landfill. However, this step should never happen because when food is put into the landfill it will decompose in the absence of oxygen, producing methane, a greenhouse gas that is twenty-three times more powerful than carbon dioxide 2.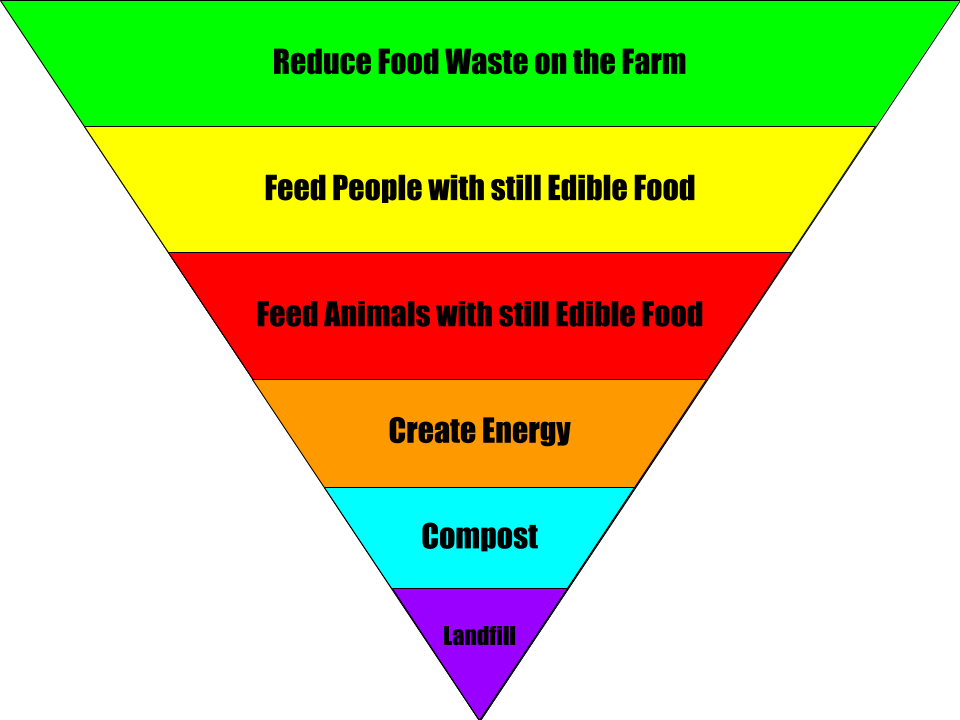 Food Waste Pyramid designed by the Environmental Protection Agency, adapted by Nathalie Amyotte (2020)
To achieve a sustainable agricultural system, substantial change must be accomplished. The global food system as a whole must be re-evaluated which includes tackling the significant issue of food waste and the challenges surrounding it. Although one third of food is currently wasted, new approaches and innovations are constantly being developed. Change can happen.
Supporting Articles:
FAO, IFAD, UNICEF, WFP & WHO. (2019). The State of Food Security and Nutrition in the World 2019. Safeguarding against economic slowdowns and downturns. Rome: FAO.

Wasted: The Story of Food Waste. Directed by Nari Kye & Anna Chai. Zero Point Zero Production Inc., 2017. CBC, https://www.cbc.ca/player/play/1164399683579.

Hegnsholt, E., Unnikrishnan,  S., Pollmann-Larsen, M., Askelsdottir, B., & Gerard, M. (2018, August 20). Tackling the 1.6-Billion-Ton Food Loss and Waste Crisis. BCG. https://www.bcg.com/en-ca/publications/2018/tackling-1.6-billion-ton-food-loss-and-waste-crisis.aspx.

Foley, J. A., Ramankutty, N., Brauman, K. A., Cassidy, E. S., Gerber, J. S., Johnston, M., Johnston, M., et al. (2011). Solutions for a cultivated planet. Nature, 478 (7369), 337-342. https://doi.org/10.1038/nature10452

Mateo-Sagasta, J., Marjani, S., Turral, H., Burke, J. (2017). Water pollution from agriculture: a global review. Rome: FAO.