Food has been a defining issue of the 21st century. Research conducted by the Food and Agriculture Organization of the United Nations (FAO) has shown that over 821 million people do not have adequate food to consume, although we currently produce enough food globally to feed the whole population. The current global food system privileges the wealthy, while the poor remain bound to a cyclical poverty trap. Flash forward to the year 2050, where the global population is now projected to reach 10 billion people. The question for the future then becomes, what will happen if political leadership continues to fail in providing an equitable food system for all, and how will we cope with the growing demands of a rising population, where demand for food will begin to outstrip supply?
     Today, there are approximately 2,200 kilocalories of food produced for every person daily. Although we currently produce the recommended average caloric intake for the world's population, there are a few major limitations to our global food system. One issue to recognize is that caloric intake does not necessarily reflect a healthy or nutritional diet. The Harvard Healthy Eating Plate (HHEP) tells us that humans should consume: 15 servings of fruits and vegetables, eight servings of whole grains, five servings of protein, and one serving of oil daily to have a nutritional diet.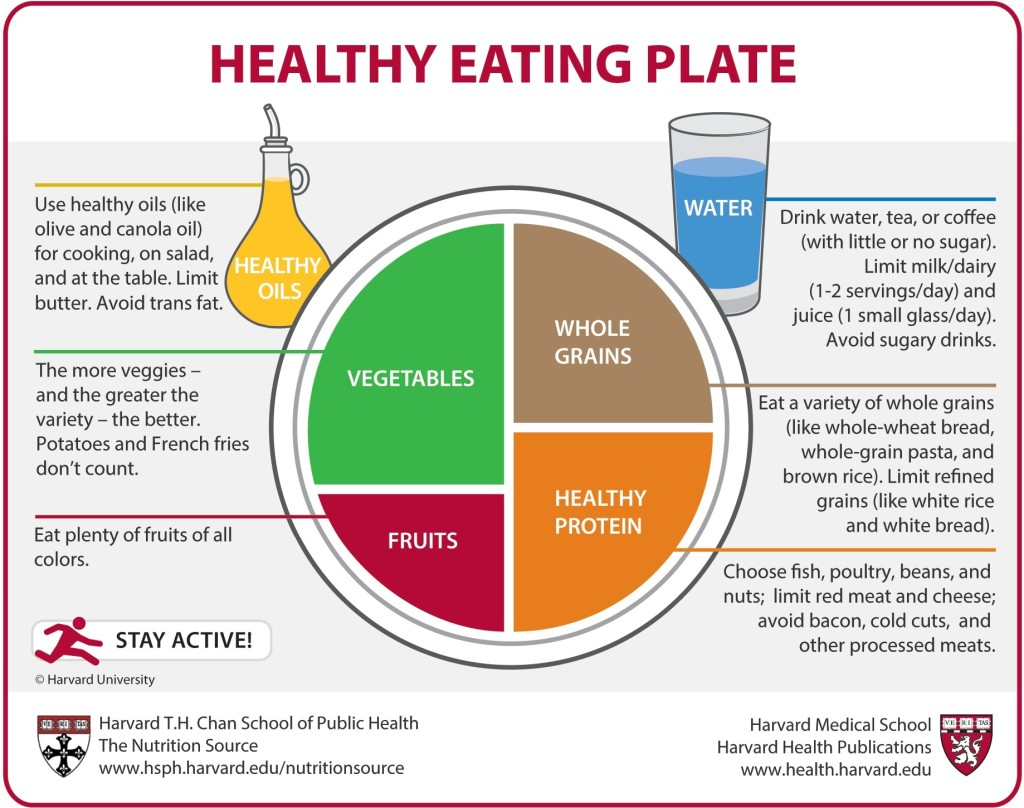 (Harvard T.H. Chan School of Public Health)
      However, due to overproduction of certain food groups, the average individual's diet consists of a high carbohydrates, fats, and sugar intake, which is likely to promote prevalence in cardiovascular disease, obesity, and type 2 diabetes. The second issue pertains to climate variability and biodiversity loss due monoculture systems and increased greenhouse gas (GHG) emissions from meat production. If we continuously utilize croplands for monocultures and feed for our cattle industry, we could endanger species and reduce biodiversity which is needed as carbon sinks to sequester carbon dioxide (CO2). Lastly, in terms of GHG emissions from food production, the most significant impacts come from the meat, poultry, and pork industry. Currently, livestock production contributes to 2.90 GT CO2e/yr. The number of gigatons of CO2 will continue to grow, as the demand of food begins to rise due to population increases. Therefore, there is a need for alternative and sustainable pathways for our food production, as the longer our society waits, the more devastating the impacts of CO2 will be on our communities.
Assessing Future Pathways for Food Production
     The article When too much isn't enough: Does current food production meet global nutritional needs? written by Krishna Bahadur, Evan Fraser and fellow researchers, suggests that there are three future scenarios to sustainably and nutritionally feed 10 billion people in 2050.
     The first scenario mentions the consumption of proteins but emphasizes the reduction of arable land that is allocated for the meat industry and meat alternatives. In this way, producing alternative sources of proteins such as insects, fungus, and algae can help decrease GHG emissions. The second scenario is to use scientific techniques and innovative farming practices to increase global fruit and vegetable production, which aligns with the recommendations of the HHEP. In order to do this in the most sustainable manner, vertical farming practices and indoor production facilities, would be best to minimize land use practice. The final scenario suggested is to reduce household food waste. This is important, as out of all the food waste that occurs globally, 20% is attributed to food that is not eaten in homes and is left to rot in landfills. If each person could reduce their waste at home, overall methane emissions would decrease.
     If more sustainable practices like the ones mentioned above are adopted, and if we move towards following the HHEP more closely, land use for whole grain, fat and oil, and sugar production would drastically decrease. Therefore, we need to take action and incorporate more plant-based proteins and fruits and vegetables into our diets. To end, we have the opportunity as a global community to make the required changes needed to make our world more sustainable for the coming years.