With the global pandemic continuing to cause uncertainties in our food systems, interest in developing stronger and more sustainable local food systems is on the rise. By reducing transportation and preservation needs, local food systems can be better for the environment and more resilient to supply chain disruptions. They also have the potential to increase our sense of connection to the food we eat and they ways it's produced. Guest blogger Sarina Perchak, Land-Based Education Coordinator from White Owl Native Ancestry Association, helps us understand the importance of this idea from an Indigenous point of view.
Indigenous Land-Based Learning:
Nourishing Body and Spirit
By Sarina Perchak
     In many Indigenous teachings and related agreements with the Land, individuals are taught to uphold their part to give life to all life. To support all living things on their respective journeys, to take only what one needs, and to give back to others the gifts that one receives from Mother Earth. These are the very principles that we at Wisahkotewinowak [wisahk-toe-win-no-walk] aim to accomplish in every minute of work that we do. We believe the Land provides a place for community and a sense of belonging. We aim to nurture Land-based relationships to strengthen local food sovereignty and urban Indigenous food environments. We strive to do this work in a good way, upholding our responsibility to All Our Relations.
     We are an urban Indigenous garden collective working in the Waterloo and Wellington regions. Together we are made up of Indigenous and settler ally gardeners, academics, teachers, students, and life-long learners. We pull our strength from the large network of those involved in our work and the passion that burns within the people responsible for our operation. We remind ourselves of this strength when we recount the meaning behind our name: the first green shoots that come up from Mother Earth after a fire has gone through the Land. Just like the tiny shoots that we are proud to emulate, we push through the colonial soil to assert our presence in an ever tumultuous world. We mirror and honour the resiliency of our relations.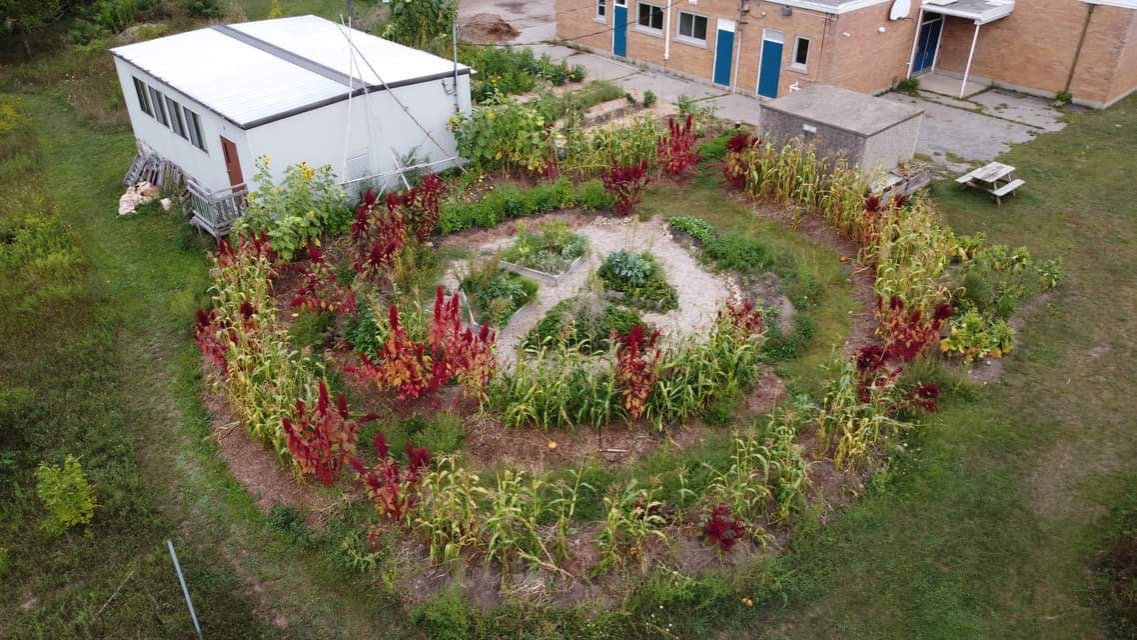 In order to do this, we care for and work in harmony with the Land at four garden locations. We work with our Produce Garden at the University of Waterloo Environmental Reserve that was established in 2019; our Three Sisters Garden at Steckle Heritage Farm in Kitchener that was established in 2017; our Teaching Garden at the Blair Outdoor Education Centre in Cambridge that was established in 2019; and our Tea Garden in the University of Guelph's Arboretum that was established in 2018. It is with the help of these pieces of Land that we are able to share and grow in the work that we do to uphold our responsibility to support all life in each other, the community and the world around us. Reciprocity is at the heart of these continued interactions.
     Not only do these spaces allow Indigenous peoples to actively learn and be in relation with food and the Land in a safe environment, but they provide valuable foods and medicines for the community members in the Waterloo Region in association with White Owl Native Ancestry Association. Since August 5th we have taken what the gardens have given us and placed them in boxes to give to Indigenous families that have voiced interest in receiving them. In the 15 weeks since that first distribution day, we have been able to give food to 35 different households. This translates to approximately 275 mouths and over one tonne (2200 pounds) of food. Boxes have included turnips, tomatoes, squash varieties, corn, tobacco, onions, sweetgrass, and kale; just to name a few. Now that harvest season is over and all that remains in our gardens is resilient kale, we have begun to source out local foods to purchase for food distributing. Community partners such as the SEED in Guelph and the Golden Hearth Bakery in Kitchener have made this transition as smooth as possible, enabling us to continue our work to fight for food justice and security for Indigenous peoples into the colder months of the year.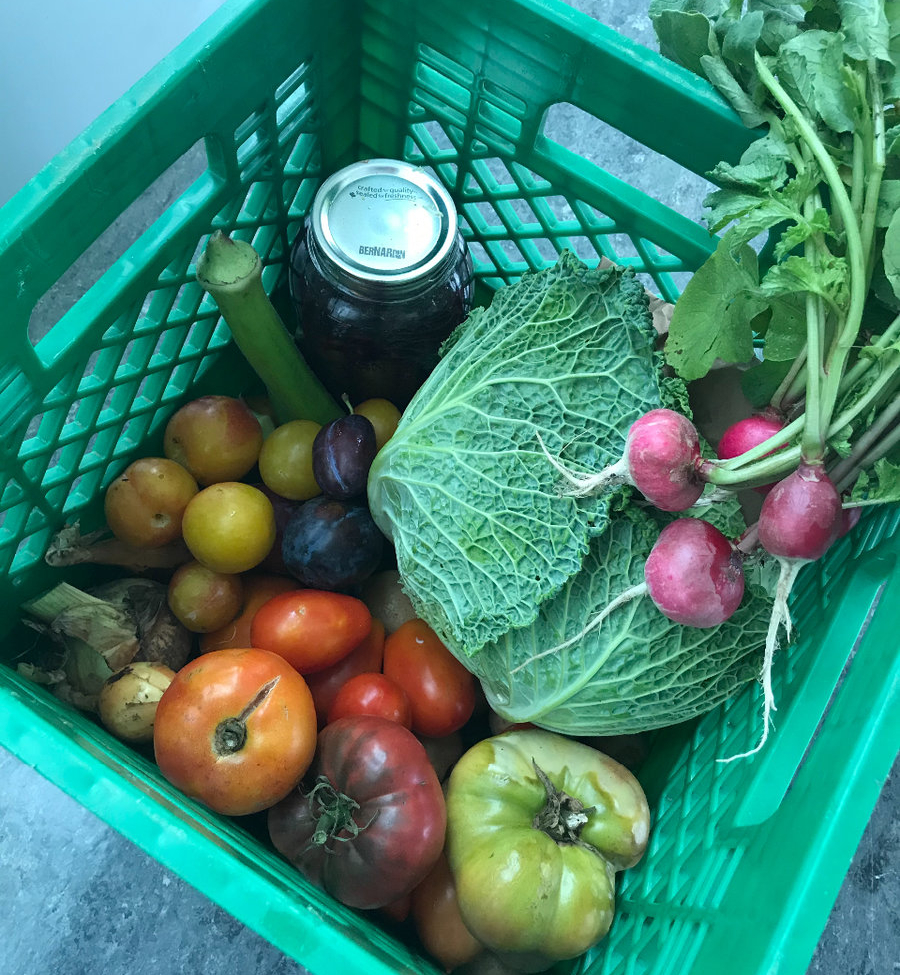 This is only one side of our food work, however. In addition to building an increased sense of food security for those in our region, our work with the Land and food provision is equally about community-building. Especially in times of limited contact, weekly food distribution and socially-distanced volunteer days in the gardens have been a much needed time of interaction and connection for a spiritually deprived people. Thus, we are not only nourishing bodies in our work but nourishing spirits as well. In fact, one is inherent to the other; you cannot be truly full if your soul is lacking sustenance. We recognize this and work to continually acknowledge food and food work as an immensely important part of our relations. Every day we continue to learn and grow in our work, and continue to strive to live life in a good way that supports all other life. We welcome anyone who shares in this passion.
To learn about volunteer opportunities, join the Wisahkotewinowak newsletter by sending an email to wisahkotewinowak@gmail.com. 
Follow Wisahkotewinowak and White Owl for more information about the educational materials and events they offer: